Portraits of Anna Cora Mowatt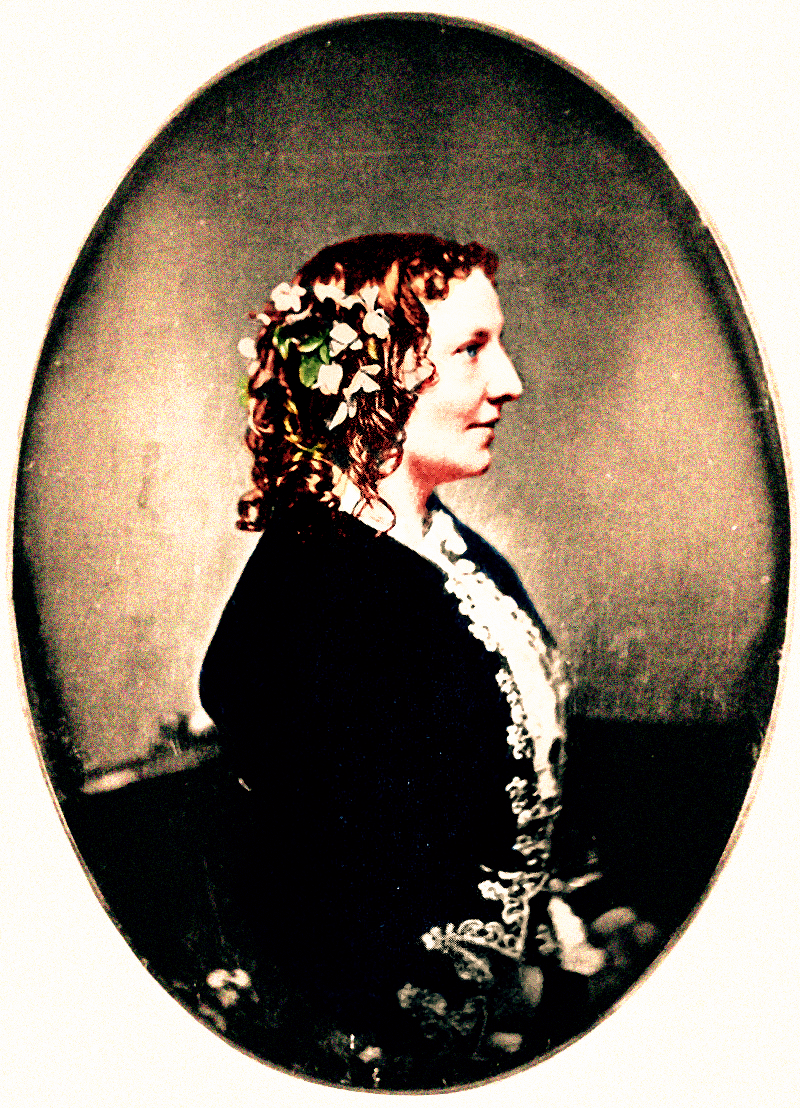 In 1849, when Anna Cora Mowatt was at the height of her popularity, photography was still a rare, time-consuming, uncomfortable, and
expensive process. Mathew Brady opened his New York studio in 1844. By the end of the century, photography would change the nature of celebrity forever. Right now, there are people who have achieved near world-wide fame on the basis of the unrelenting distribution of images of them in popular media.
During Anna Cora Mowatt's lifetime, though, photography was slow to catch on. Despite the boost to sales provided by Civil War battle scenes and portraits of generals, Matthew Brady's studio went bankrupt. There are only three surviving photographs of Anna Cora Mowatt that I have seen. There may be as many as four more photographs that were taken of her during her time in London that served as the basis for steel engravings. This number is that high only because she was a celebrity. The average Victorian had zero photographs of themselves.
The three photographs that we do have of Mowatt are all from the 1850's. The two were publicity photos to go along with the publication of "Autobiography of an Actress." Mowatt is 34 in these pictures. This is one of the only times in her life she wore her hair short. She'd been through a serious illness and appears heavier than she does elsewhere. I have colorized these photos and removed a stain on her forehead. A lock of her hair is also included with her picture so you can see her natural hair color (click here for Mowatt reading image at full size).
The second image is a profile that was taken a few years later – circa 1856, I think – as part of her participation on a committee to have Mt. Vernon turned into a national monument. Mowatt was appointed the first Vice-Chair of that organization. This portrait is still displayed on the Mt. Vernon website. In my opinion, this is a good picture of her (click here for Mt. Vernon portrait at full size).
In addition to the three photographs of Mowatt, there are around a dozen drawings. These range from high quality steel engravings to sketches
that aren't merely bad likenesses, they are obviously poor artistic efforts like this book illustration.
At the high end of the scale of verisimilitude are the steel engravings of Mowatt. When reproduced at full resolution and/or colorized, these illustrations can have a near photographic quality. Several of these are reported to be based on photographs (these are the lost photos I referred to earlier and have never seen). The problem with steel engravings is that they are the creations of artists, not photographs. These portraits can contain exaggerations and conventionalizations of the subject's features according to the artist's design or unconscious preferences. For example in the full length portraits of Mowatt in costume as Rosalind (click here for full size) and Beatrice (click here for full size) in Tallis' Dramatic Magazine, she appears plump
and full-figured. In reality, she was so flat-chested that the wardrobe mistress at her first engagement in London immediately put her in a corset with a padded bosom and laced it so tightly she nearly passed out on stage.1 She reported herself to be a little over medium height (maybe 5'6?). E.L. Davenport estimated her weight to be around ninety pounds in letter he wrote 1848.2 And yet in these illustrations, she appears fleshy and dimpled because that was the popular style for English actresses at that time.
In this steel engraving, done at nearly the same time, she appears much thinner. Her features are more angular. This illustration is also
supposed to be based on a photographic source. (click here for full size image)
One definite piece of information we can glean from the historical records is that Anna Cora Mowatt's contemporaries thought she was beautiful. Eyewitness accounts of encounters with her throughout her lifetime invariably mention how attractive she was. Even snide remarks from her detractors use her personal appearance as a focal point in comments like, "more beautiful than talented" or "being a pretty woman has obvious advantages…"
Marion Harlan, who knew her from her days in Richmond asserted,
No picture I have ever seen does her even partial justice. In her youth, she was extremely pretty. At thirty eight, she was more than handsome. Time had not dimmed her exquisite complexion; her hair had been cut off during an attack of brain-fever, and grew out again in short, fair curls; her eyes were soft blue; her teeth dazzlingly white.3
These illustrations, done by noted American engraver, John Chester Buttre, in 1860, give Mowatt's face an entirely different look. She is in her forties in these pictures. Buttre was known for the exactness of his portraits, but his pictures of women tended to be somewhat flat and unemotional. (click here for full size image of sketch by Buttre and here for engraving by Buttre)

The effect of meeting Mowatt face-to-face was apparently a bit breath-taking. Poet Camilla Dufor Crosland described feeling transfixed by the actress' loveliness on the occasion their first meeting in this excerpt from a poem written about her: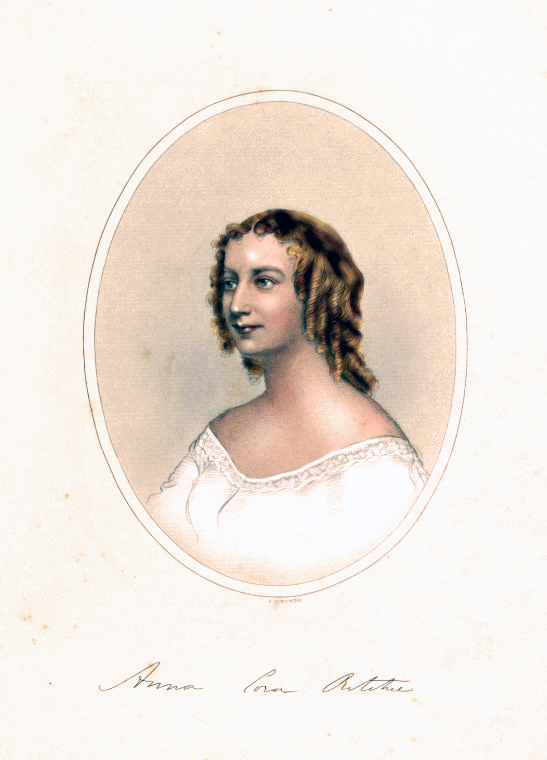 Thy perfect beauty not the theme
On which to fondly warm;
For common clay has ta'en, ere now,
The Spartan Helen's form.
And yet that beauty had a spell
Which unto awe could reach,
When first I clasped thy hand, and heard
The music of they speech.
It stayed the words upon my tongue,
My foot upon the floor;
I could but gaze as I, methinks,
Had never gazed before.
We were not strangers – O, no, no!
And cordial was thy clasp;
And yet, that awe well nigh forbade
My hand return the grasp.4
Similarly mesmerized was Edgar Allan Poe, who was at this time still keeping his Broadway Journal afloat. In his capacity as drama critic, he reviewed her play "Fashion."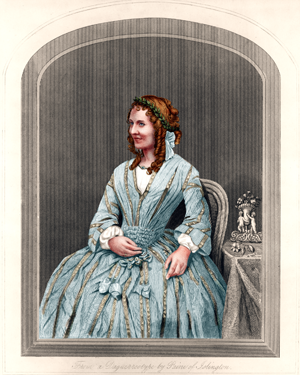 Poe initially disliked the production, but ended up returning to view it over forty times and caught almost every performance of her debut season as an actress in New York. He described Mowatt as follows:
Her figure is slight -- even fragile -- but eminently graceful. Her face is a remarkably fine one, and of that precise character best adapted to the stage. The forehead is, perhaps, the least prepossessing feature, although it is by no means an unintellectual one. Hair light auburn, in rich profusion, and always arranged with exquisite taste. The eyes are gray, brilliant and expressive, without being full. The nose is well formed, with the Roman curve, and indicative of energy. This quality is also shown in the somewhat excessive prominence of the chin. The mouth is large, with brilliant and even teeth and flexible lips, capable of the most instantaneous and effective variations of expression. A more radiantly beautiful smile it is quite impossible to conceive. Mrs. Mowatt has also the personal advantage of a profusion of rich auburn hair.4
These two steel engravings were both done by English engraver, Paine of Islington, for the same issue of Tallis' Dramatic Magazine in 1851. She's wearing the same dress in each picture. I have not been able to determine which is the original and which is the re-do or find any explanation of why a second engraving was done. (Click here for full size image of first Islington portrait. Click here for second portrait)
English critic Bayless Bernard, after witnessing Mowatt assay many roles during her four years in London, also found that her appearance particularly suited her for the stage:
Mrs. Mowatt, like Mr. Davenport, has a serio-comic genius; but we think, upon more inclining to the latter. Nature has not adapted her for the higher walks of tragedy, nor even that of its youthful heroines, in denying her the force their due expression calls for. She wants the strength for Juliet's passion, or even Julia's, in The Hunchback; nor is her face of that marked character that could atone for this defect, by affording a reflex of the mind, whereon the throes and changes of a great passion could be pictured. It is essentially bright and cheerful – made up of rounded outlines, and gay, laughter-loving features, that, when forced into gloom or passion, become more painful than expressive. Thus whilst she has a tenderness and pathos that render her Imogen and Viola scarcely equaled in our memory, there is such an entire adaptation of her whole person, look, and spirit, to the blander sphere of comedy, that we cannot but feel it is her true one… That mixed exposition of the ideal and the true, which stamps all Shakespeare's writings as the profoundest insights into man, receives the happiest illustration in the genius of Mrs. Mowatt. Sensibility and mirth are ever neighbors to each other: and our fair artist well interprets what our best poet has so well divined… It is in Beatrice and Rosalind that she must be witnessed, to be estimated – equaled by some in art, and surpassed by force by many, she alone has that poetic fervor which imparts to them their truth, and makes our laughter ever ready to tremble into tears.6
Hands down, the best portrait I've ever found of Mowatt is this 1847 watercolor from the Victoria and Albert museum. It's a publicity shot of Mowatt as Lucy Ashton in "Bride of Lammermoor." Although it is called a "watercolor," it looks like it might be a hand-tinted photograph. Unlike any of the other pictures I've presented, this dramatic pose of this picture really lets Mowatt's winning and exuberant personality shine through. (click for full image)
.
1. Mowatt, Anna Cora. Autobiography of an Actress; or Eight Years on the Stage. Boston: Ticknor, Reid, and Fields, 1854. Page 277.
2. Davenport, E.L. quoted in Eric Wollencott Barnes. The Lady of Fashion: The Life and Theatre of Anna Cora Mowatt. New York: Charles Scribner's Sons, 1954.
3. Harlan, Marion. Marion Harlan's Autobiography: The Story of a Long Life. Harper & Brothers: New York, 1910. Page 290
4. Crosland, Camilla Dufor. "To Anna Cora Mowatt." Quoted in Anna Cora Mowatt's Autobiography of an Actress; or Eight Years on the Stage. Boston: Ticknor, Reid, and Fields, 1854. Page 292.
5. Poe, Edgar Allan. "The Drama." Broadway Journal. July 19, 1845. Page 184.
6. Bernard, Bayless. Tallis's Drawing Room Table Book of Theatrical Portraits, Memoirs, and Anecdotes. London: John Tallis, 1851. Page 11